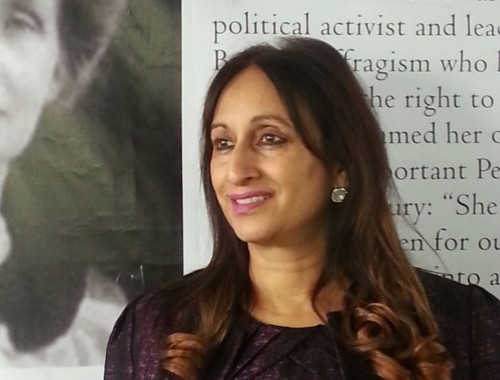 Navrita Atwal is the Chief Executive of the UK Equality Council and has been in her post since June 2001.
As a trustee for Centric, Navrita is the current chairperson responsible for HR, training, performance reviews along with general support. She maintains regular contact with our Chief Exec.
Navrita is a national speaker and a qualified trainer.  She holds an MSc in Human Resources Development from Thames Valley University.   Many organisations and individuals have benefited from her knowledge and experience which she has and continues to share with others.
Navrita is also an Equality expert, plus a great believer in creating a society where people can feel free to work, live, learn, enjoy without the fear of hate crime or discrimination.  Navrita has devoted many years to this work and says that continuous work is still needed to ensure that good practices established through the various movements over many years are not lost through ignorance or complacency.
Navrita's greatest passion is in helping individuals to reach their full potential by promoting equality of opportunity for all.  During her 18 years in post, she has already made a difference to the communities of Milton Keynes by creating educational  programmes where differences can be explored in a safe environment with a view to creating a sense of cultural awareness and acceptance.  These programmes have been very successful and have assisted the business sector to become more sensitive to the needs of different communities.
Additionally, she developed an outreach work programme called 'Can't Reach, Won't Reach', with a view to helping and establishing further contact with vulnerable and disadvantaged communities.
Tackling discrimination and inequality in the world of show business was another challenge which Navrita dealt with through the introduction of 'Diverse Arts Live' 2011.  This programme helped to give some confidence to artists entering the world of show business and at the same time challenged practices of certain entertainment companies.  Diverse Arts Live gave artists equality of opportunity to showcase their talent.  The Diverse Arts Live Show was held at MK Theatre in September 2011 and bought together a range of artists and stakeholders.
She introduced different Awards categories with a view to encouraging and retaining good practice.
These included:
Championing Change Awards
Making a Difference Awards
Equality and Diversity Awards
These Awards gave recognition to the sterling work being performed by businesses, community groups and individuals within Milton Keynes and the Thames Valley area.
In 2012 Navrita introduced the Diamond Jubilee Equality & Diversity Awards.
Navrita is currently the Chair of the Milton Keynes United Nations Association.  She is keen for other countries to follow best practices introduced in the UK.
AMBASSADOR FOR PEACE: Navrita's work and contribution to society has touched the lives of thousands of people and in 2010 she was made an Ambassador for Peace. This was awarded by the Universal Peace Federation,  Interreligious and International Federation for World Peace – supported by the United Nations.
Navrita won several awards for her work including: Race Relations Equality Award 1995 winner in the Innovation Category and also the Overall Winner,  British Diversity Silver Award 1999 and  British Diversity Gold Award  in 2000.
Before moving to Milton Keynes, Navrita worked for BAA London Heathrow Airport as Public Relations Manager with specific responsibility for Terminals 3, 4 and the VIP terminal.  She handled all press enquiries at an international level and worked closely with the marketing team to make Heathrow the number one airport in the world.